Yinherb Matrixyl 3000 Peptide Bulk powder 98% Purity
INCI Name: Palmitoyl Oligopeptide,Palmitoyl Tetrapeptide-7
Reference: Matrixyl 3000
Sequence: (matrixyl 3000:Pal-GHK: PAl-GQPR=1:2)
Purity: >95%
Solubility: soluble in water
Stability: stable
Odor: no
Grade: cosmetic
Source: synthetic
Formulation: available for your reference, please contact us.
COA and MSDS: available for your reference, please contact us.
Delivery: promptly from stock
Capacity: 500g per month
Recommended use level: 2%
Appearance: white powder
Brand Name: Yinherb
Test Method: HPLC
Storage: Lyophilized peptides although stable at room temperature for 3 months, should be stored desiccated below -18° C. Upon reconstitution of the peptide it should be stored at 4° C between 2-21 days and for future use below-18° C.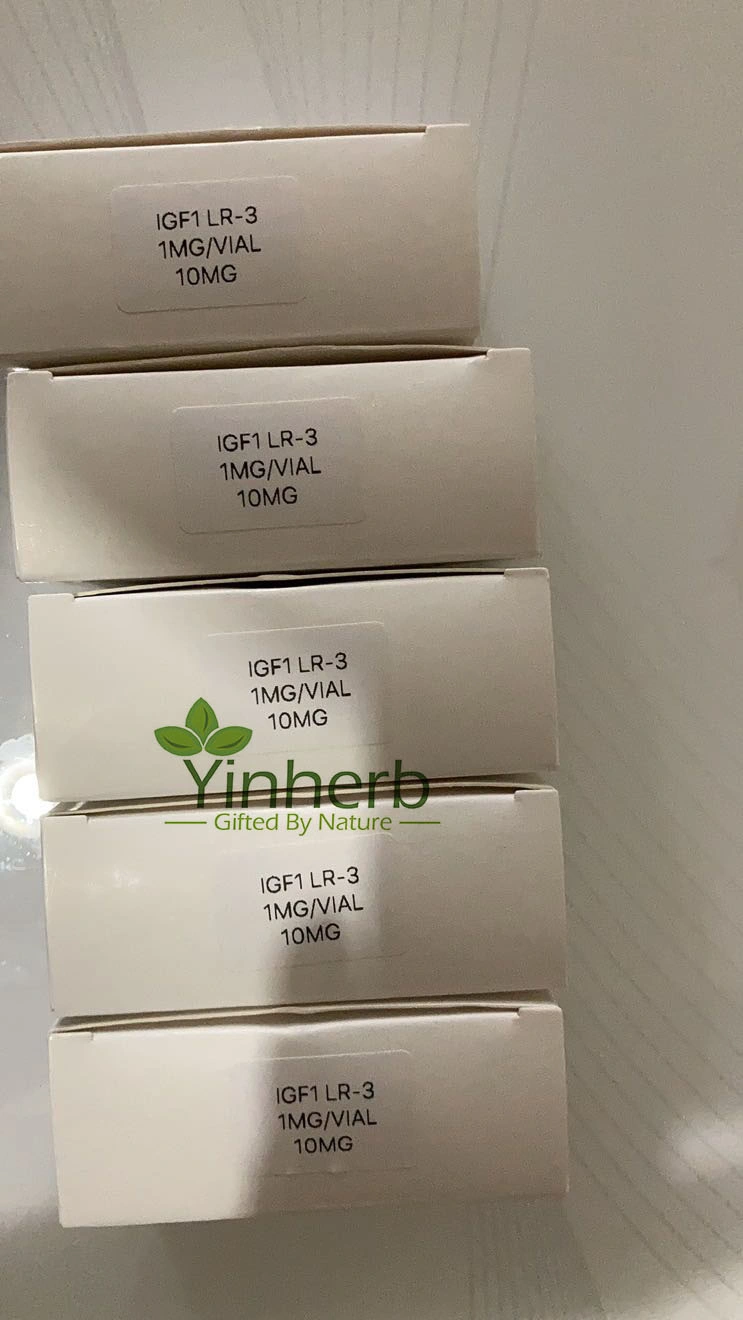 What is Matrixyl 3000 Peptide?
Matrixyl 3000 is a blend of Palmitoyl Oligopeptide and Palmitoyl Tetrapeptide-7.
Palmitoyl Oligopeptide sequence is found in proteins of the extracellular matrix such as the αchain of collagen, and it is believed to be released during wounding and inflammation. A feedback stimulation of collagen repair has also been proposed for this peptide, but the main benefit to photoaged skin is believed to be the enhanced delivery of copper.It is found to have the beneficial effects on collagen stimulation.
Palmitoyl Tetrapeptide-7 mimics the activity of DHEA, the youth hormone that functions to reverse IL-6 over-production, and therefore reduce the aging symptoms as well as the phenomenon of immunosenescence.Palmitoyl Tetrapeptide-7 can enhance the functions in a variety of skin care and color cosmetic formulation.
Matrixyl 3000 Peptide
Benefits
1)Matrixyl 3000 (Palmitoyl Oligopeptide and Palmitoyl Tetrapeptide-7) uses 2 matrikines to synergisticly send messengers to reconstruct damaged collagen.
2)Matrixyl 3000 contains the matrikines Pal-GHK and Pal-GQPR act-ing in synergy to repair the cutaneous damages of age
3)Matrixyl 3000 contains the matrikines Pal-GHK and Pal-GQPR act-ing in synergy to repair the cutaneous damages of age. By activating the skin's natural production of collagen, elastin and hyaluronic acid, Matrixyl 3000 works to reduce wrinkles and other signs of aging.
Matrixyl 3000 Peptide Mode of Action
1)Matrixyl diminishes wrinkles by 45%
2)Lifts and firms the skin
3)Restores skins youthful appearance
Matrixyl 3000 Peptide Dosage
This depends on your body weight. All of the research carried out so far has used rodent studies, the rats and mice are usually injected with an effective dosage thought to be around 10 μg (mcg) per KG, in humans this is thought to be around the equivalent loading of 1.6 μg per KG in humans, so if you are:
60 KG (132 lb.) then your ideal daily BPC-157 oral dose would be 96 μg (mcg)
70 KG (154 lb.) => 112 μg
80 KG (176 lb.) => 128 μg
90 KG (198 lb.) => 144 μg
Matrixyl 3000 Peptide
HPLC &NMR Test report by Yinherb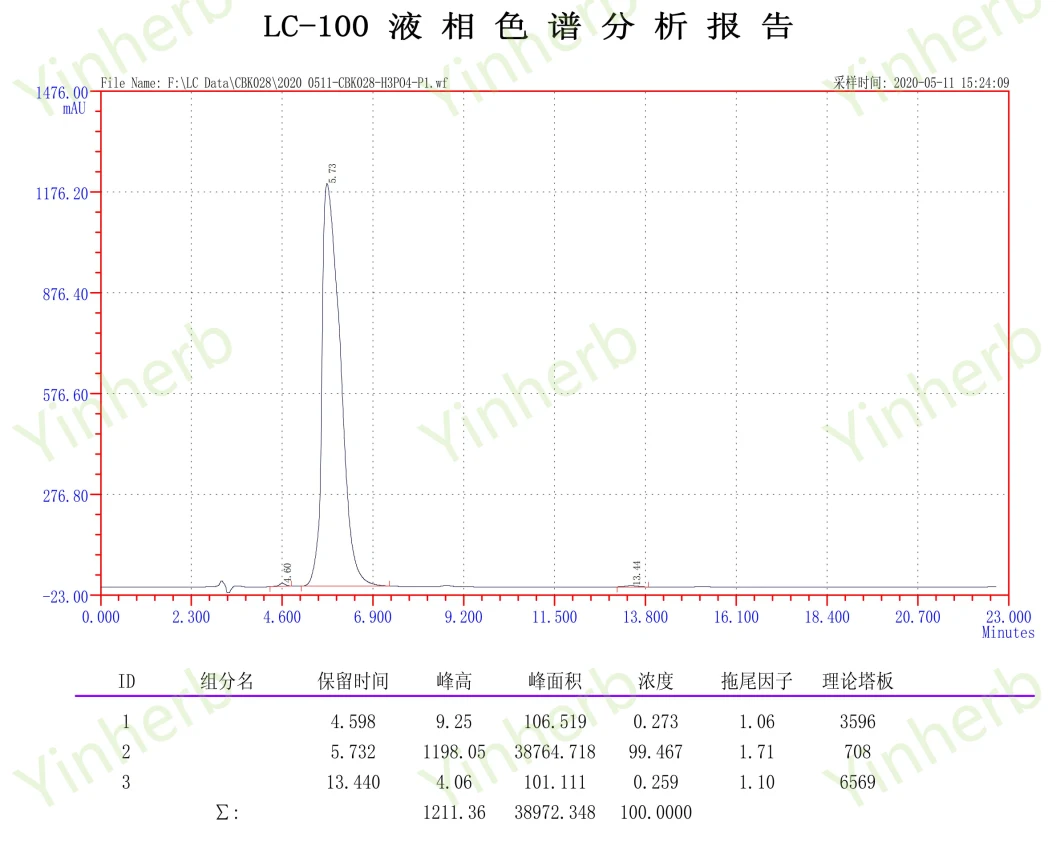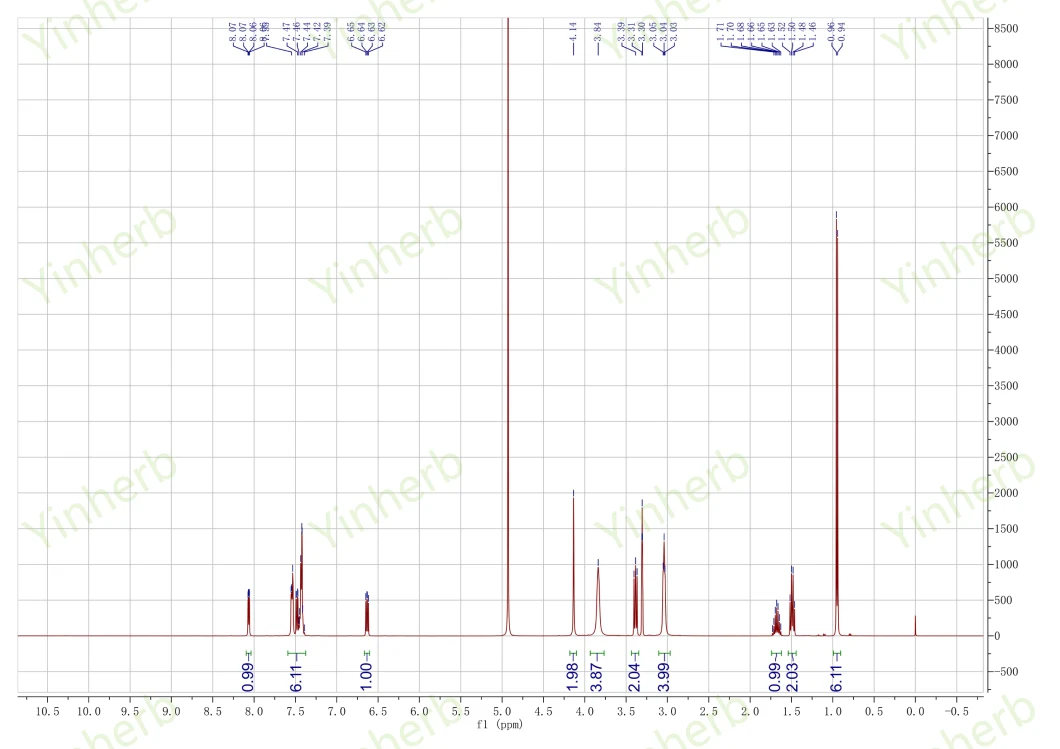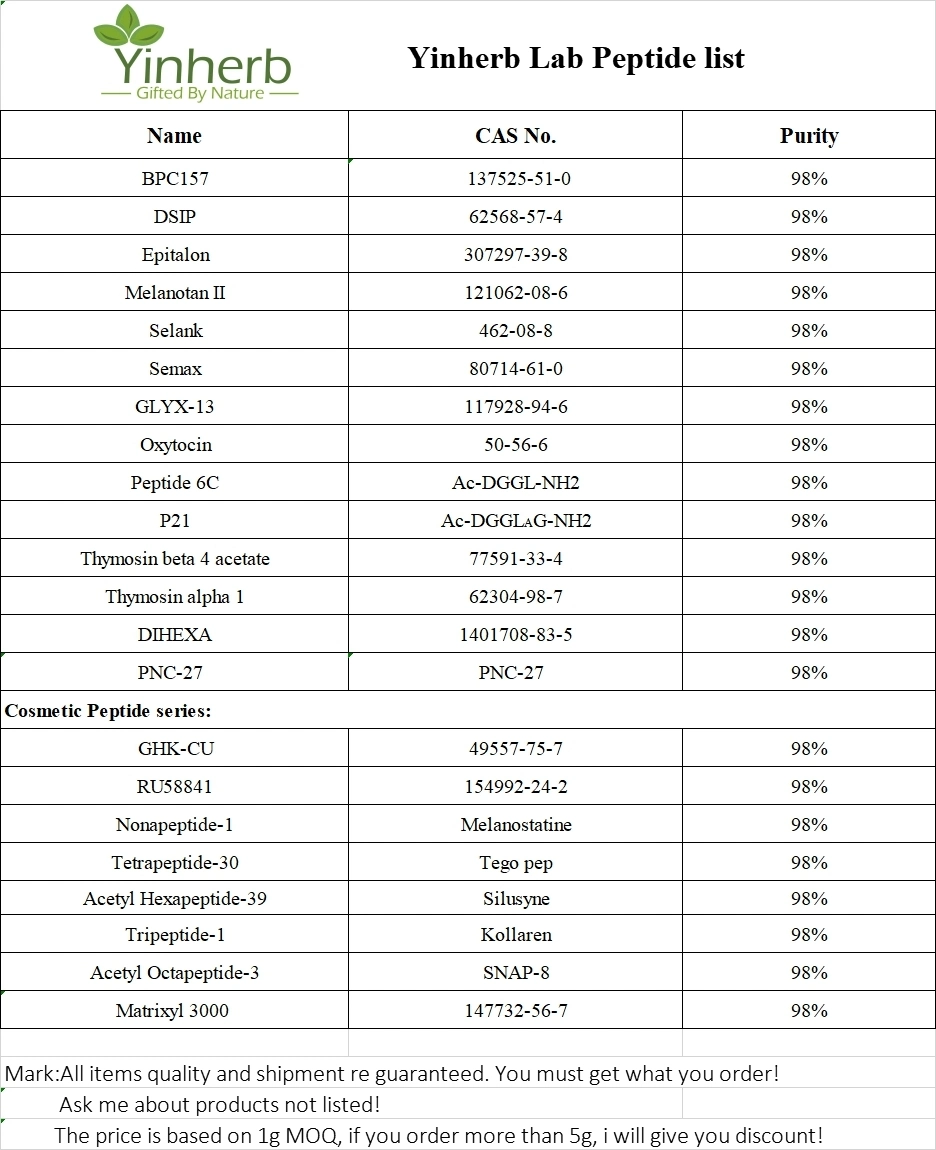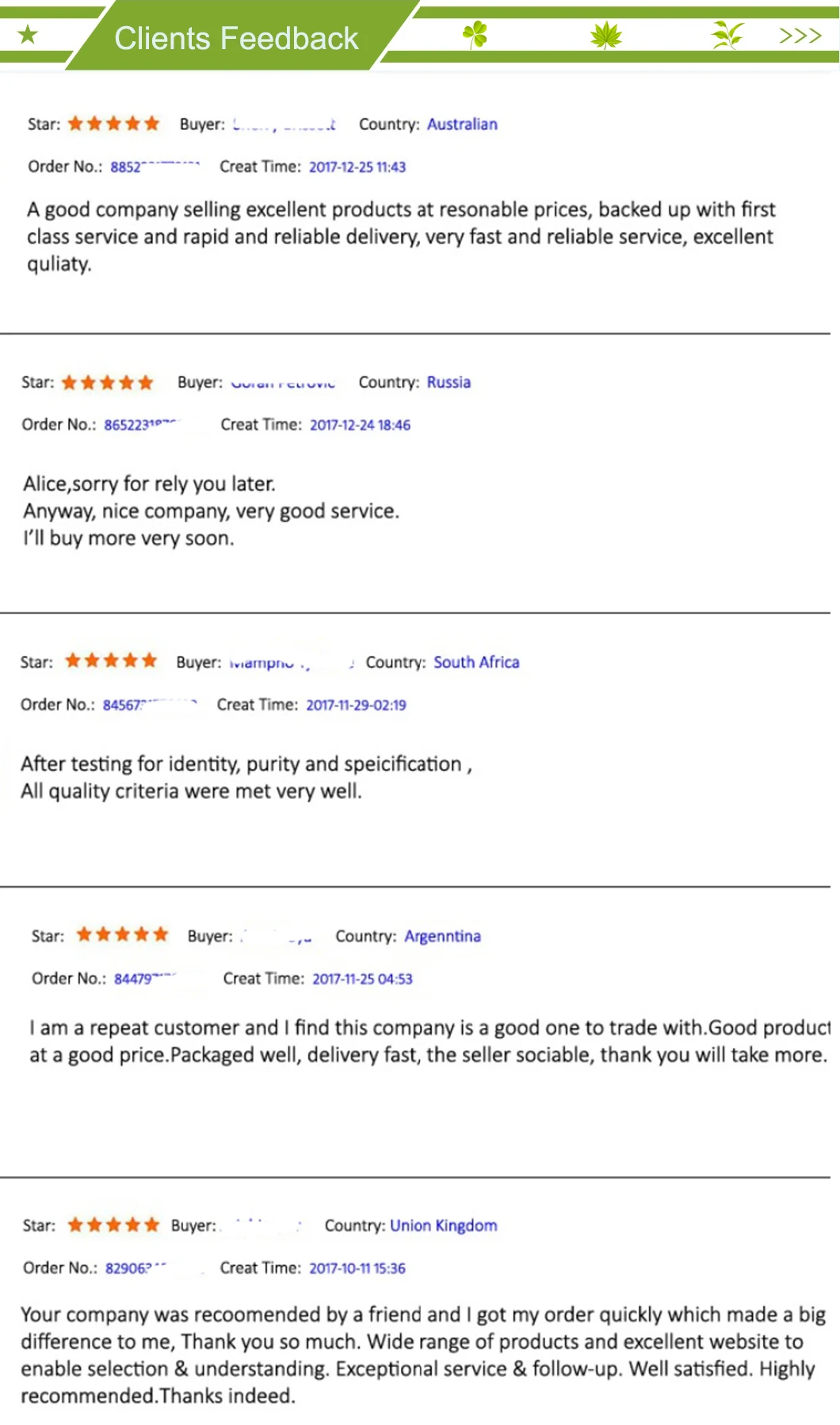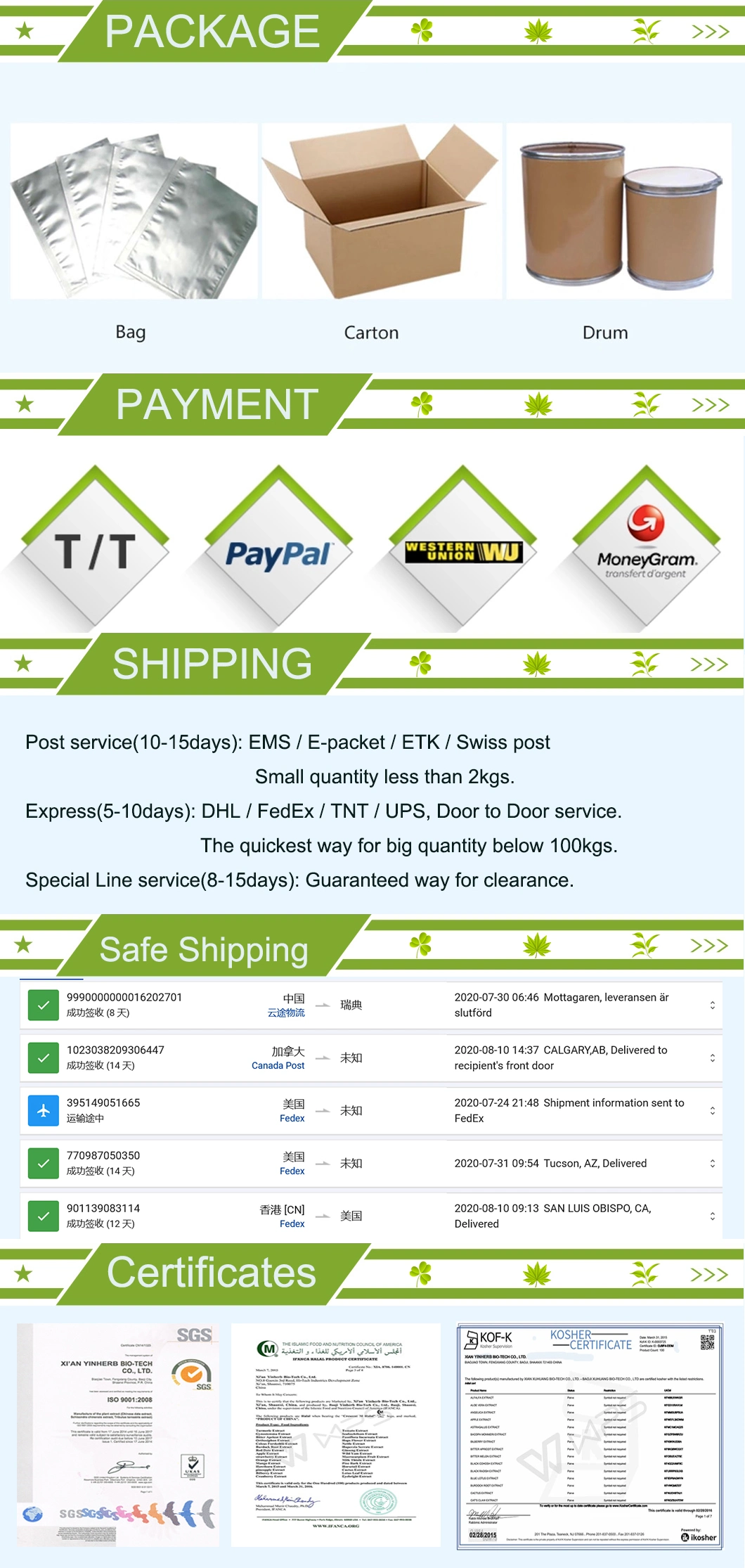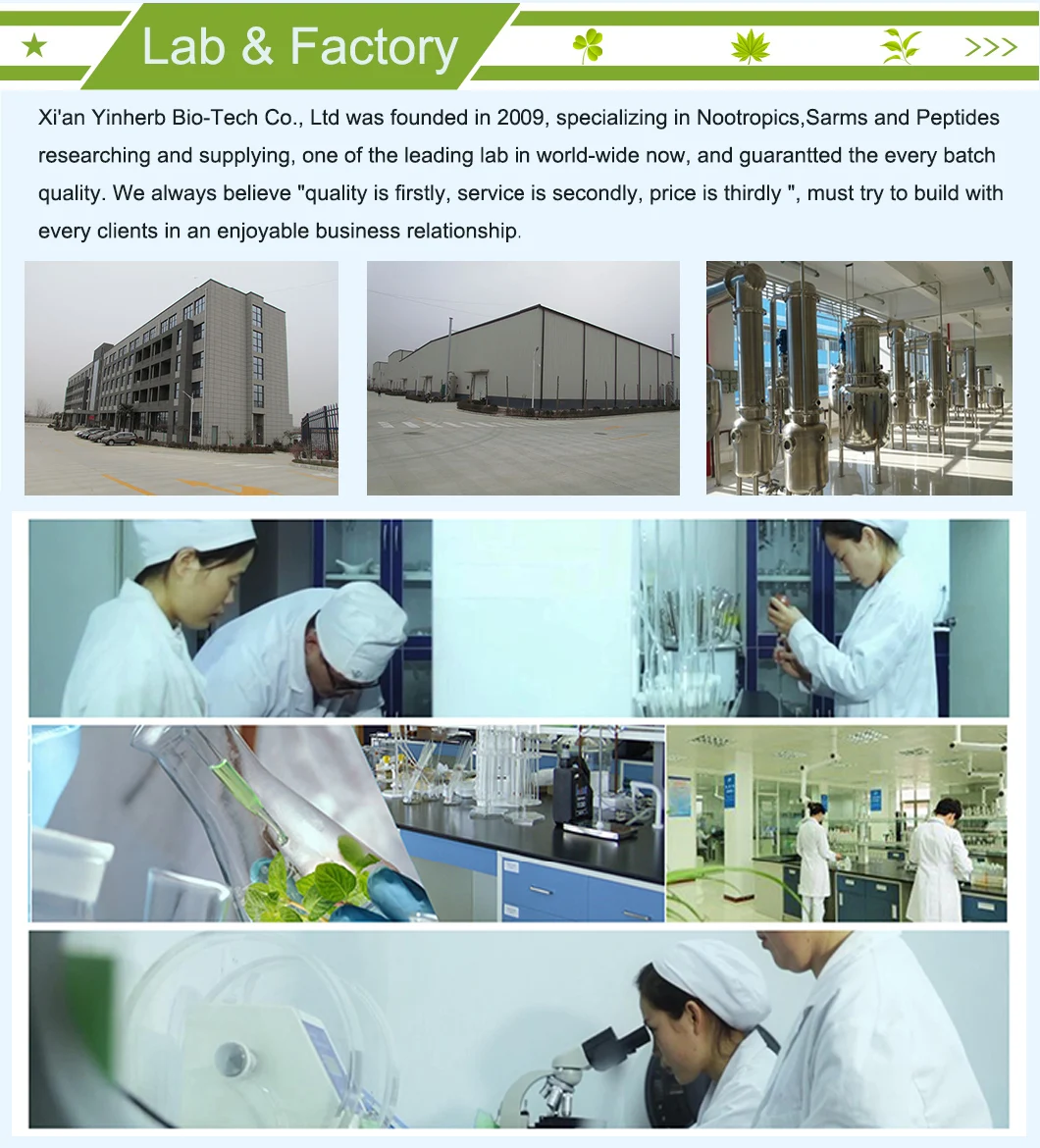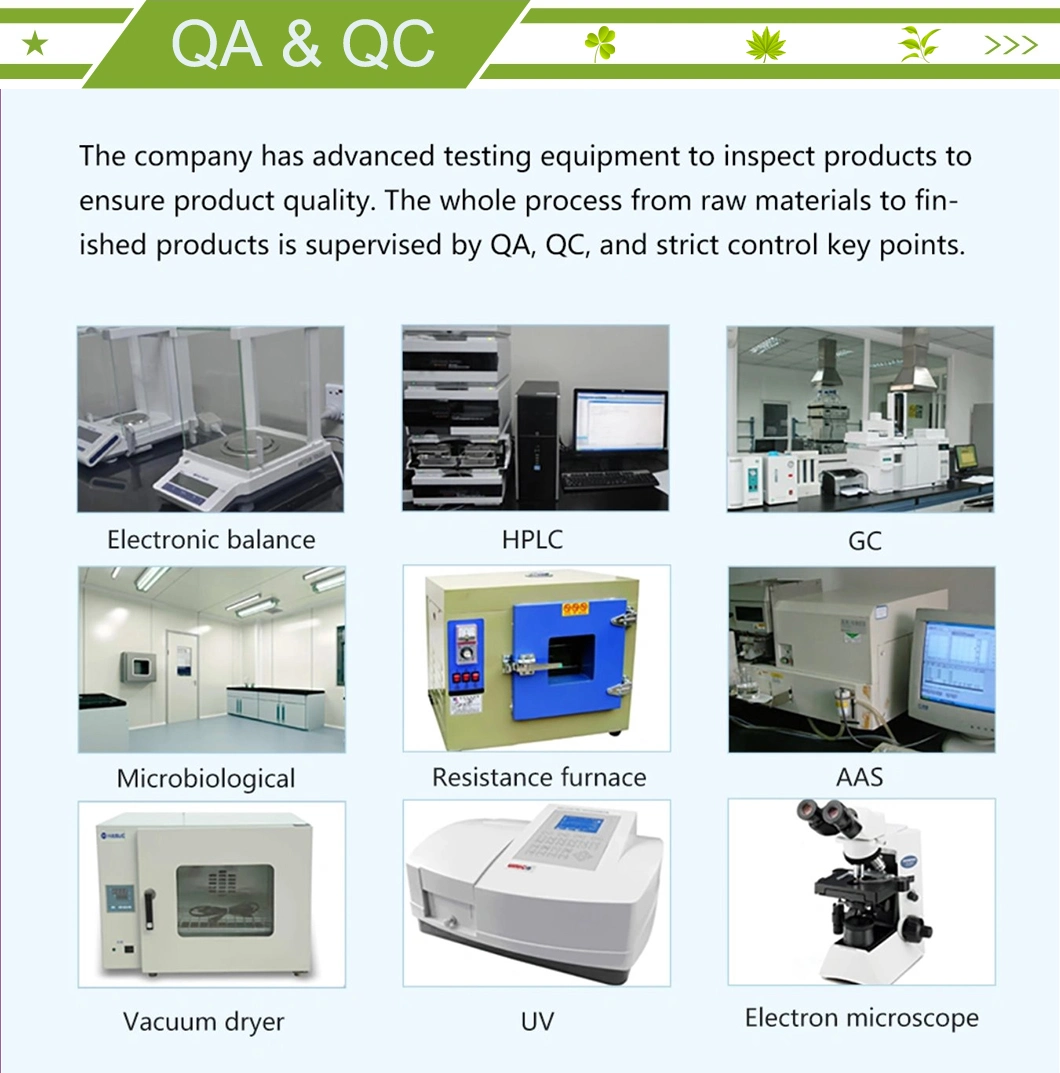 Q1: Can i get some samples
A: Yes, we can supply the free sample, but the shipping cost be paid by our customers.

Q2: How to start orders or make payments
A: Proforma invoice will be sent first after confirmation of order, enclosed our bank information. Payment by T/T, Western Union or Paypal or Escrow(Alibaba).

Q3: How to confirm the Product Quality before placing orders
A:You can get free samples for some products,you only need to pay the shipping cost or arrange a courier to us and take the samples. You can send us your product specifications and requests,we will manufacture the products according to your requests.

Q4:What's your MOQ
A:Our MOQ is 1kg. But usually we accept less quantity such as 100g on the condition that sample charge is 100% paid.

Q5: How about delivery leadtime
A:Delivery lead time: About 3-5 days after payment confirmed. (Chinese holiday not included)

Q6:Is there a discount
A:Different quantity has different discount.

Q7: How do you treat quality complaint
A:First of all, our quality control will reduce the quality problem to near zero. If there is a real quality problem caused by us, we will send you free goods for replacement or refund your loss.