Brief introduction:
Explosion-proof canned electric pump is a leak-free pump consisting of a canned motor and a pump. The canned pump has absolutely no leakage. Under negative pressure in the pump, outside air will not be sucked in, which is especially suitable for vacuum system operation; For high pressure, high melting point, high and low temperature media. The canned motor pump is compact in structure, small in size and light in weight; it has no cooling fan, low noise, wide range of use, reliable operation, and can provide a relatively good working environment.
Parameters:
Flow rate:

Q= 2~1200 (m³/h)

Total head

:

H=2~800 (m)

Pump speed

:

n=1450/2900rpm

Design temperature

:

T=-200~450ºC
Features: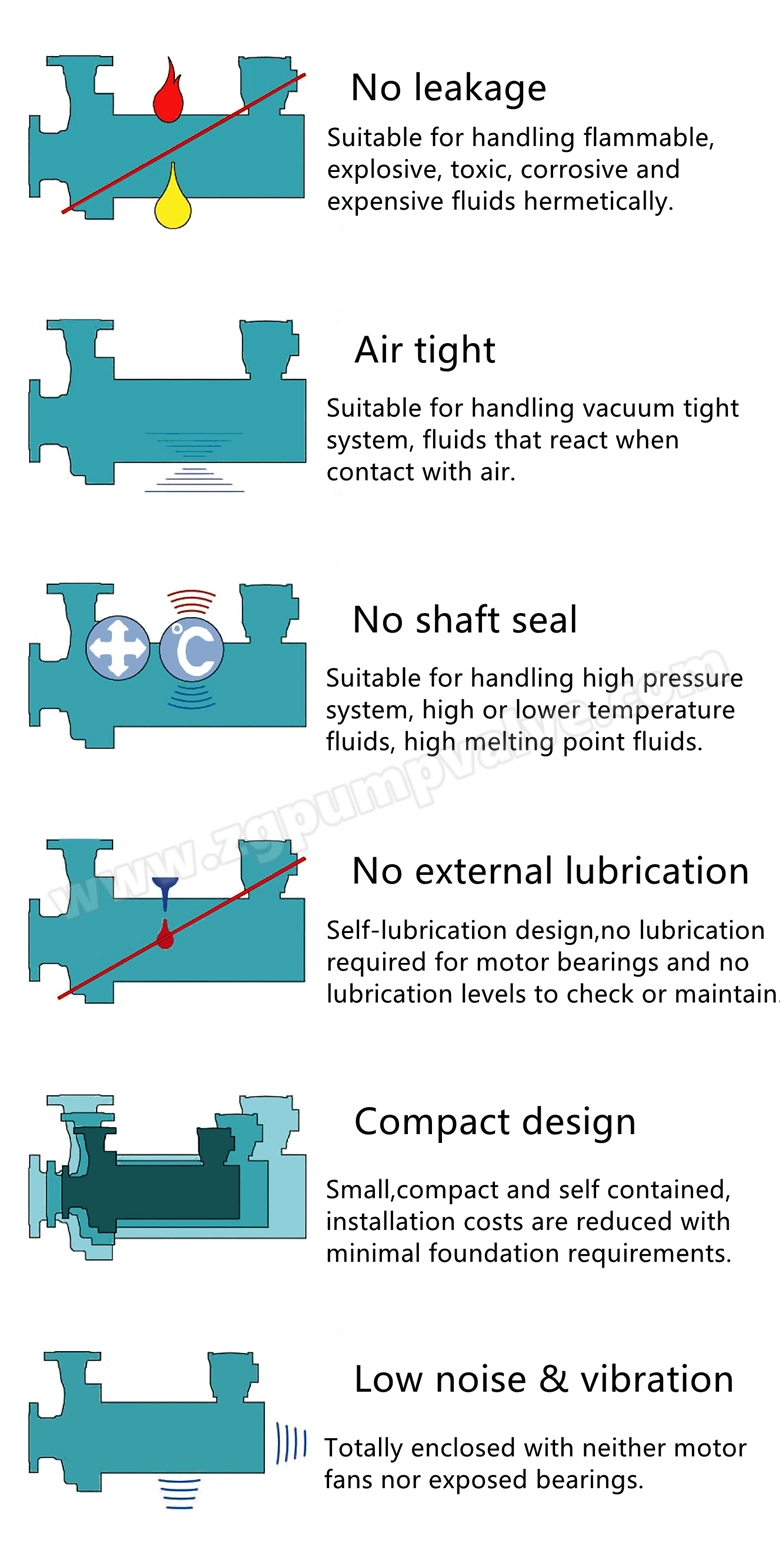 1. The stator and the rotor are separated by non-magnetic corrosion-resistant thin-walled sleeves. The rotor is supported by the front and rear bearings and immersed in the conveying medium. Therefore, no type of dynamic seal is required to prevent outward leakage of the conveyed medium.
2. Totally closed: there is no dynamic seal on the structure, only the static seal is on the casing of the pump, so it can be completely leak-free.
3. The rotor and the stator each have a shielding sleeve so that the motor rotor and the stator are not in contact with the material. Even if the shielding sleeve is broken, there is no danger of external leakage.
Structure: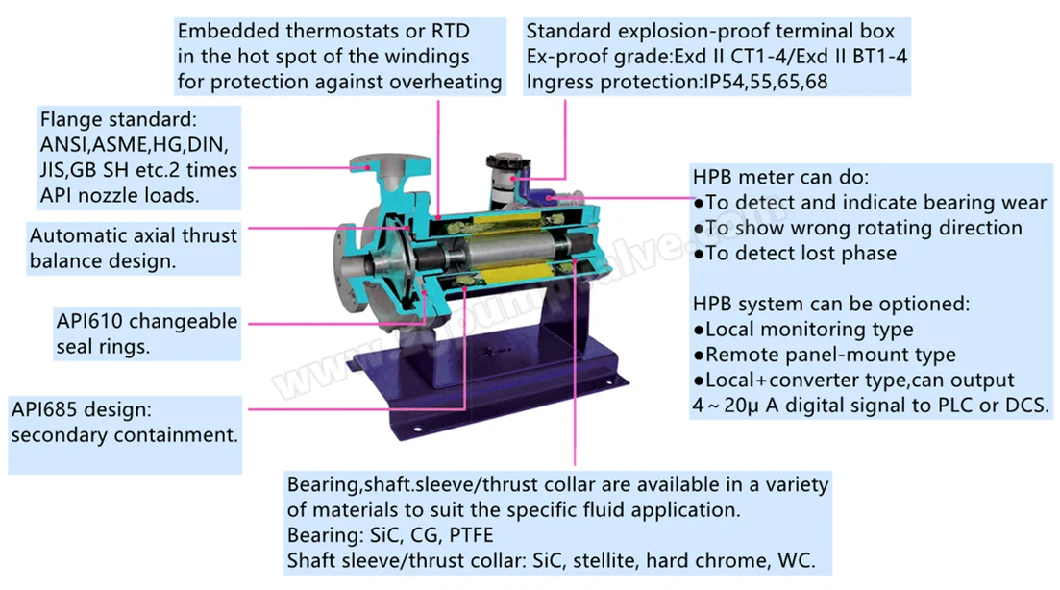 Configuration:
Flange Standard: ANSI, ASME, HG, DIN, JIS, GB, SH etc (2 times API nozzle loads)
MOC:
Metallic: SS304 /SS
316
/SS
316L; Hastelloy C4, C276 etc;
Insulation: H, C, Super-C, etc
Gasket: PTFE, Metal Spiral Wound etc
Application:
Canned motor pump has been widely used in almost all fields related to industry, its strong sealing, compact structure, easy maintenance and low noise advantages, suitable for conveying more than 600 kinds of media, to achieve the requirements of complete no leakage.
When conveying the following types of media, the canned pump has greater advantages
The conveying medium will cause pollution to the environment, or once leaked, there is a possibility of combustion or explosion
2. The conveying medium has a toxic odor, which will cause harm to personnel
3. The conveying medium will react with air, and then produce harmful substances
4. Easy to solidify liquid, high temperature liquid or refrigerant
5. Liquid containing solid particles
6. High pressure liquids or liquids in harsh environments.

Typical fluids handled by canned motor pump: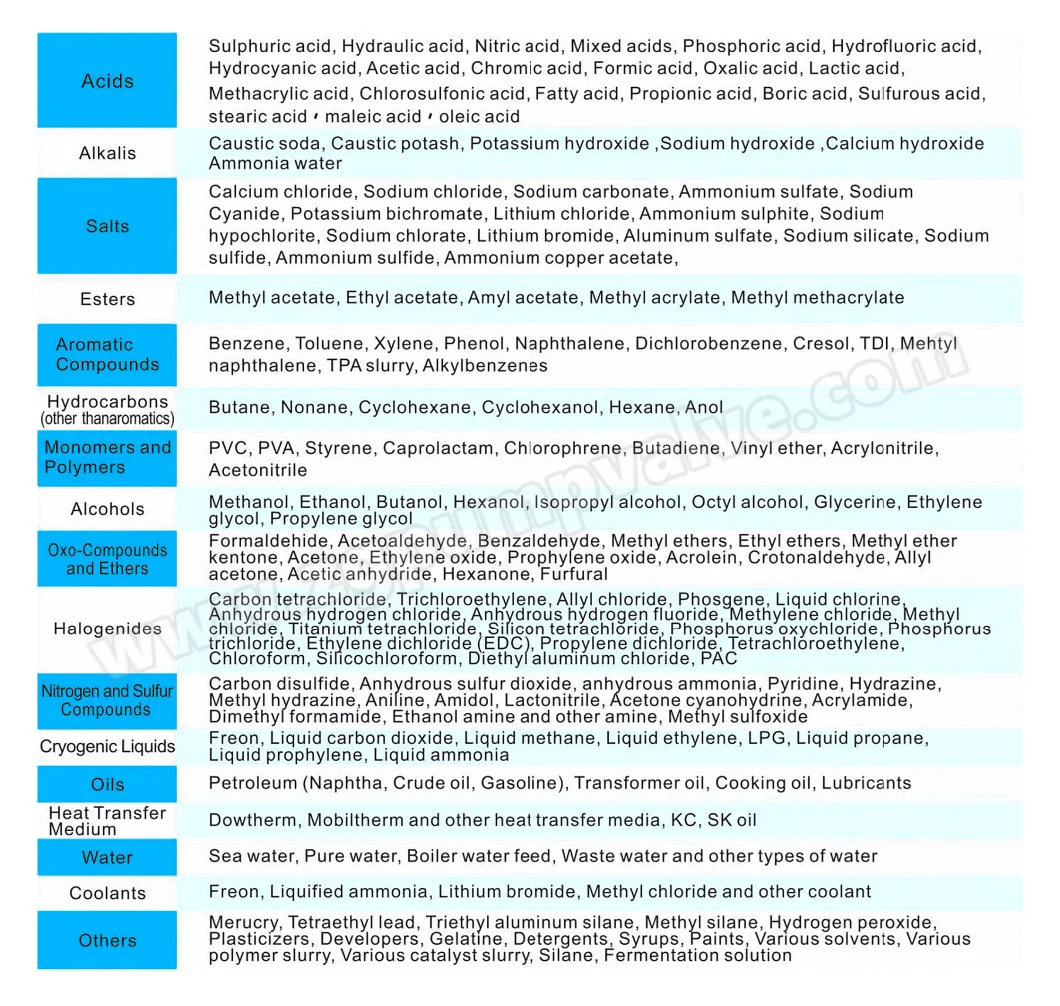 We also supply 25 series construction, suitable for handling many fluids and processes: