Product Description
ASTM F136 Titanium 3 CZ Stone Inside Hinged Segment Ring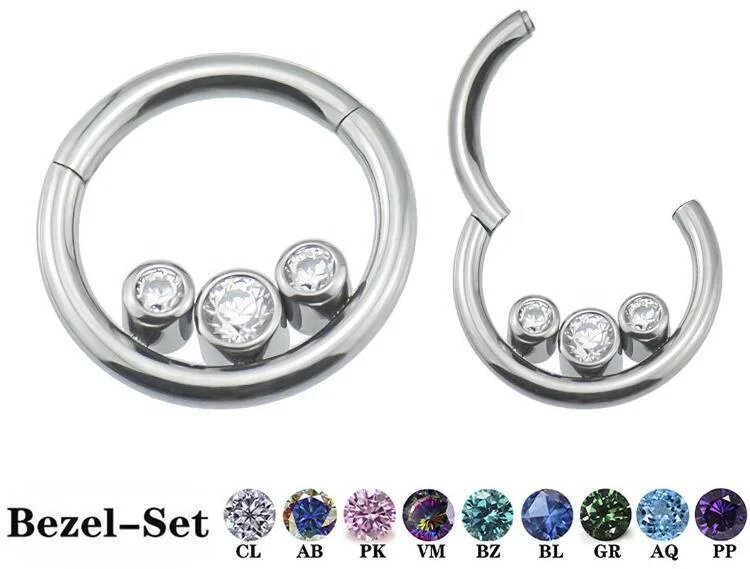 Specification:
1. Material

6Al-4V-Eli ASTM F-136 implant titanium,Cubic Zirconia( Custom Color)

2. Size

16G 1.2*8mm,1.2*10mm

3. Use

Used for Lip, Nose, Septum, Ear, Nipple, Genital etc piercing jewelry

4.Price

Best ex-works price

5. MOQ
Normal order: 100 pieces each size or each color
Sample order: 3-5pcs samples, if stock available
6.Packing

PP Bag with card /piece

7.Delivery time

about 30~50 days depends on your quantity

8.Shipping

UPS/FEDEX/DHL/EMS.etc

9.Payment

T/T or Paypal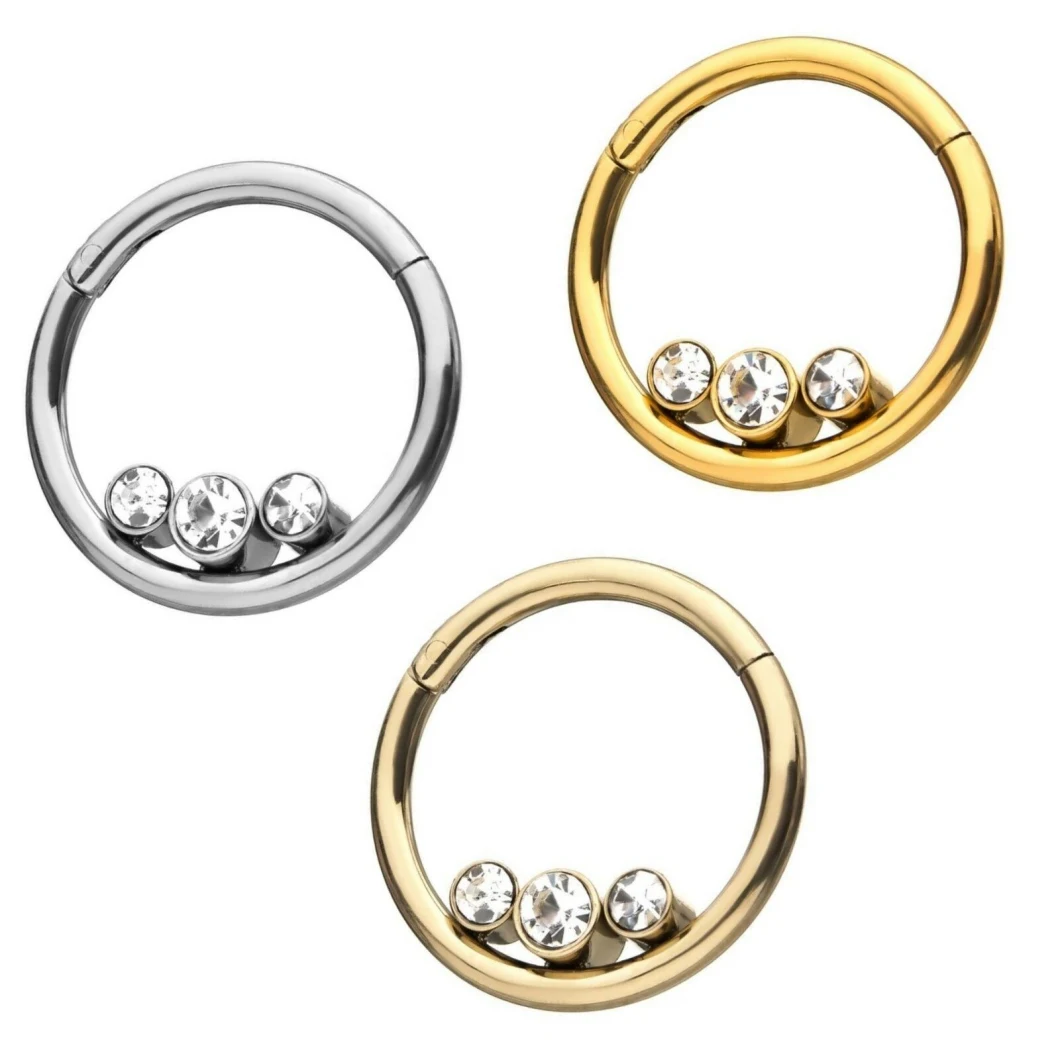 Exhibition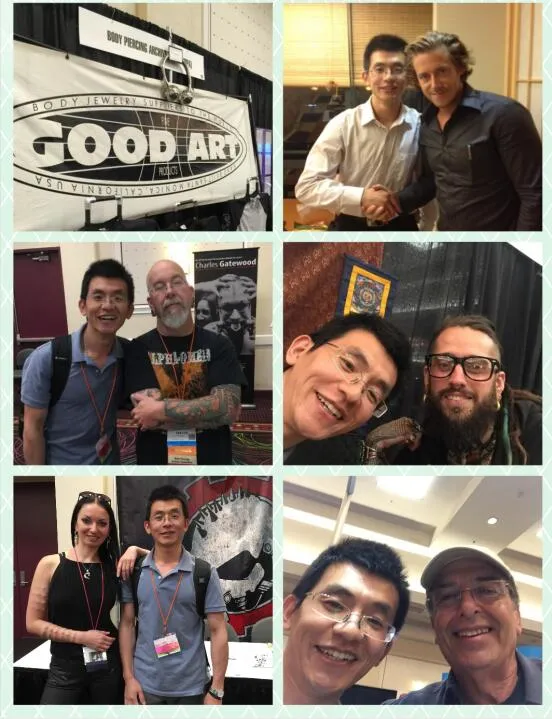 Our factory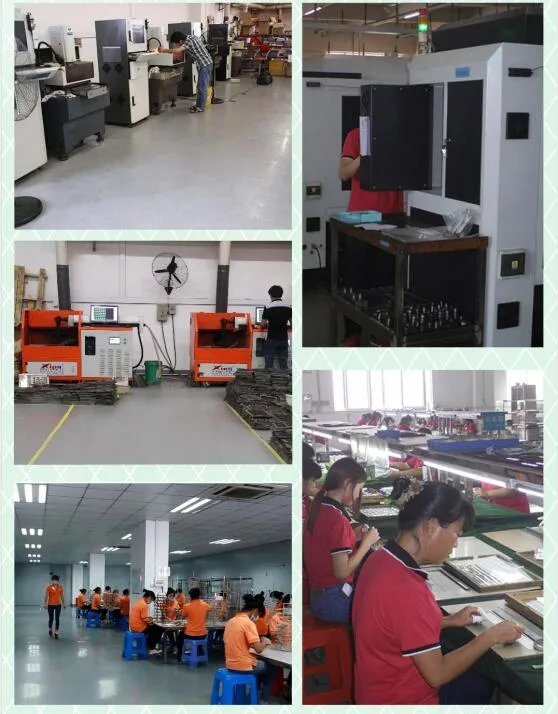 FAQ List
1. Is Eternal Metal a manufacturer? Where is the factory located?

Yes, Eternal Metal is a 13-year-old manufacturer & exporter in body-piercing jewelry industry. Situated in QINGDAO, SHANDONG province, our factory and headquarter is able to make the best of those favorable conditions in the neighborhood.

2. Are you open for OEM and ODM?

Yes, we produce jewelry for body-piercing in house both as Original Equipment Manufacturer(OEM) and Original Design Manufacturer(ODM).


3. I want to check your quality, can I order samples?

Yes, Eternal Metal never begin mass production before customers approve samples. We could provide High Definition pictures or/and send real samples for customers' examination.

4. How do you charge for samples?

For basic body jewelry items in stock, we provide free samples, customer only needs to help with shipping cost.
For special items, we will charge no-more than cost of production.

5. How can I track my orders?

After shipment, we will provide a tracking number for customers to follow-up the parcel.

6. What if I receive defected products?

We follow strict Quality Control standards to screen out defected products. But since we apply a lot of manual work, mistakes might happen. In such cases, you could request a repair/replacement within 30 days after parcel arrival.


7. What if you send me the wrong item(s)?

If we send products of unwanted size/color/specs, we will conduct 100% refund or will replace ASAP upon customer's consent.

8. What is your return/replace requirement?

To replace or return items, please confirm with us in advance, worn/used items CANNOT be claimed as defective and won't be replaced. All defected items MUST be packed in single bags and noted with readable product specs & Invoice Number.
Please note that NO credit notes will be issued for defected products.

9. How do you charge for return/replacements?

Mistakes on our side, we will conduct 100% refund. Shipping?

10. Which payment options do you accept?

We are optional among T/T,Paypal

11. What is your Minimum Order Quantity?

Generally 100 to 300 pieces depending on specific items for wholesale price.

12. How can I follow-up my orders before shipping?

Please consult our sales-representatives to keep tuned for latest order status.

13. Can I track my order after shipment via my account?

We are afraid not possible at the moment since our online-ordering system is not in effect. Please track the parcel by tracking information we have provided.

14. What are your available shipping methods?

We are flexible among DHL, Fedex and UPS, will ship upon customers' preference.

15. Do you provide insurance for the parcel?

To provide the most cost-effective products for customer, we generally DONOT include insurance expenses.
Customer is optional to pay us an extra 0.4% of declared value to get a full refund if the parcel goes lost.

16. What's your charge for taxes?

Import taxes and duties differ in each country and changes according to the latest policy, please understand that it is impossible
for us to be precise and accurate in these charges.
Therefore, customers are deemed liable for relevant information in the country where parcel is delivered.

17. How do you charge for shipping?

Shipping charges vary according to parcel weight/dimensions and the location of the destination.
We always quote it together with unit product price, please refer to quotation sheet.

18. Is a deposit required? How much?

We usually require a Minimum Down Payment of 30% of total order amount.

19. What's the lead time?

if available with stock, we shipment is around 7-12days.
If new items, it will take around 2-3 months to ship, depending on our production schedule.

20. Can you put our logo on your products?

At present our products are without logos, only with material mark, all packed in single clear bags. Customers could re-pack them into boxes/bags branded with their identifying signs.

21. Where can I get a pricelist or a catalogue?

E-mail us or contact with us onine,we will send the newness catalogue to you.
Our sales representatives will also be glad to quote if you have any special requirements.

22. Can we show your pricelist or catalogue to our customers?

Sure, no problem! We will put an online link for registered visitors to download e-catalogue once it is available. Please keep informed.

23. Can you notify us when you release new items?

Of course! We always update new items on our website. Besides, we are working on news letters to inform regular customers of the latest trend, welcome to visit our website and to stay posted!


24. What are the popular piercing types in your products?

We have products from eyebrow piercing, lip piercing, ear piercing, nose piercing, tongue piercing, belly button piercing, navel piercing.

25. Which material is the most popular among your products?

Most of our products are made of Ti 6Al-4V ELI ASTM-F136 Titanium and 316L Surgical Stainless Steel. We are also an excellent manufacturer of jewelry by 925 Silver; 14K/18K Gold, Rose Gold.

26. Do you sell by pair or by piece?

Generally we sell body jewelry by piece. earrings by pair,

27. What certificates do you have?

We have SGS mill certificates , SAO mill certificates and SAO Ni Release Certificates

28. What is PVD coating?

Physical vapor deposition (PVD) is used to form a thin film on the surface of metal surface as coatings.